If you want to give in to your inner curly girl, Aveda Be Curly Curl Enhancer intensifies your natural waves while taming frizz and posting shine. The citrus aroma of lime, lemon, bergamot and orange make it a pretty summery potion, too.
NO TWO CURL PATTERNS ARE THE SAME, WHICH IS WHY DIFFERENT CURLS REQUIRE SLIGHTLY DIFFERENT ROUTINES.
Whether you want to relax or enhance your waves, we've created an edit of our best products for curly hair, focusing on three types – wavy, curvy and coily; as well as shining the spotlight on our bestselling all-rounder.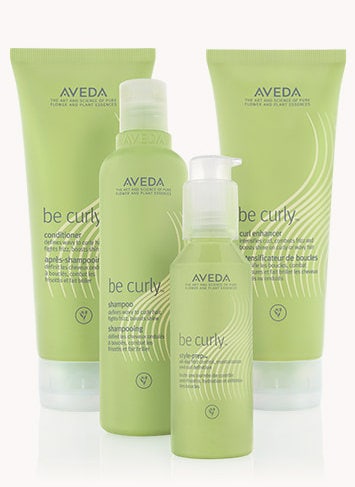 Be curly™ curl enhancer is a one-size-fits-all must-have, that customers go for again and again. It intensifies curl, tames frizz and boosts shine.
If you have naturally curly or wavy hair then why not let our professional stylists introduce you to the Aveda lineup of curly hair products. That's all there is to it. We've got everything from curly hair shampoos to cremes for defined curls. Plus, our Be Curly Curl Enhancer creme maximizes and enhances any natural curl in your hair, from subtle waves to coils, making it one of our favorite — and best-selling — Aveda styling products. Discover which products your curls and waves may be craving.
Be Curly Shampoo, Co-Wash and Conditioner:
We start your curl care with Be Curly Shampoo to help define wavy/curly hair, fight frizz and boost shine. For more moisture, opt for the Be Curly Co-Wash, which gently cleanses your scalp and moisturizes curls. we'll follow that with the Be Curly Conditioner, our best conditioner for naturally curly or wavy hair.
Be Curly Curl Enhancer:
The hero of our Be Curly line is definitely the Be Curly Curl Enhancer curl cream, and it's great a must-have for anyone who wears their hair curly or likes their hair wavy. Here's how to use it:
After applying the shampoo and conditioner we'll pair it with the Be Curly Style-Prep to help control frizz. We then, apply a small amount of Curl Enhancer to your midlengths and ends. Use fingers to carefully detangle the curls and apply the product all the way through your hair. You can choose to air dry or diffuse your hair, whatever your styling preference is. (We recommend diffusing for the best results.)
Be Curly Curl Enhancer's star ingredients, wheat protein and organic aloe, help hair expand when it's wet and retract when dry to intensify your curl or wave. We love it because it won't make curls feel crunchy, and the added ingredient of geranium gives them a light floral aroma. Be Curly Curl Enhancer will intensify and enhance your curls and waves while providing extra shine and frizz defense, making it a must have for anyone with a little spring in their step … or hair.
If you're looking for a curly hair treatment…
There's nothing worse than tangled curls and coils! Try our Be Curly Intensive Detangling Masque to detangle your curls and add moisture. Leave it in for about five minutes after you shampoo to help detangle, moisturize and fight hair frizz.
If you don't have natural curls or waves…
Our Be Curly curly hair products won't create curls if you don't have them, but if you want to add a little movement and texture to your hair, reach for Texture Tonic Styling Spray. It uses a blend of salt and sugar to create piece-y beach waves.
Other products our curly-haired fans love…
We love Damage Remedy Daily Hair Repair, a leave-in treatment similar to a leave-in conditioner to keep your curls feeling healthy and strong. It visibly repairs hair and helps protect it from breakage and damage due to heat styling. Another favorite? Dry Remedy Daily Moisturizing Oil, which penetrates your hair to instantly moisturize curly hair.
If you're not sure which of our curly hair products are best for your specific curl or wave type, don't hesitate to ask your Treat Stylist. Your curls deserve to look their most gorgeous, and we've got the products to help.
Complimentary Colour Consultation and Patch Test
For a complimentary colour consultation, contact Treat today. Ask about our Be curly™ curl enhancer, Be Curly Shampoo, Co-Wash and Conditioner: ™– Be Curly Curl Enhancer – Be Curly Intensive Detangling Masque 93% naturally derived*, cruelty-free colour which injects hair with instant healthy shine and improves the condition of damaged hair.